Cloud based software for clinic management has already reached mass adoption in the health field, and over the next years, the number of hospitals or healthcare facilities using cloud solutions is projected to triple. However, while adoption maintains to accelerate, many within the health field are also curious to know what this cloud technology can do and how they can get benefit from it. The easy and best way to know what cloud computing mean is to outline what it replaced. Earlier than cloud computing, enterprise software became expensive and complex. It needed a lot of hardware and demanded an entire crew of IT experts to run, configure, update, install and secure it. Now, if you multiply all these efforts for dozens of apps running in today's business, it becomes easy to understand why organizations needed cloud based software solutions now.
Cloud Based Software For Clinic Management
Cloud based software for clinic management is a complete clinic management system if you want to facilitate your hospital or clinic with smooth and fast workflow and automate your health facility. It maintains all necessary statistics like prescription, history, lab reports, patient registration, exams and much more. Correct and up to date records with this cloud based software for clinic management lets you personalize your technique for each patient that can increase patients confidence in you.
Evision Techno Services brings to its customers the "Cloud based software for clinic management" that streamline patient lifecycle at the clinic, simplify the workflow and reduce no-shows. Retaining control over managerial responsibilities like the commodity and drug stock, Human Resource, accounting and appointment scheduling is now very easy with Cloud based software for clinic management. To achieve success these days you need to understand precisely where you are, where you're going and a way to adapt. This software ensures that doctors focus on their primary objectives of imparting well timed and nice medical remedy to the patients in a good way.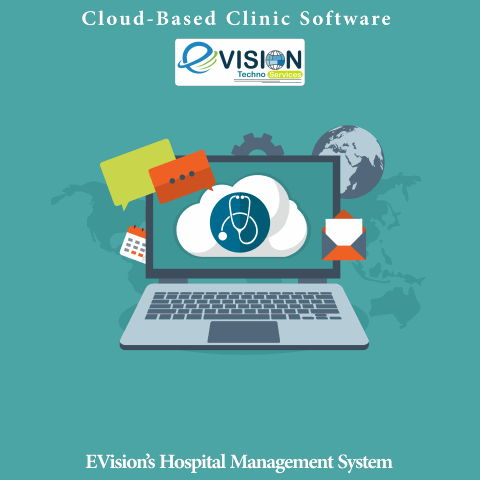 Solutions to meet your needs
Health practitioner's availability is in form of time slots that facilitates to book appointments at feasible time slots. Cloud based software for clinic management can be used by pharmacist, doctors, dispensers or anyone who holds a managerial or operational post in the medical center. Patient's medical history and information are recorded and maintained by the software. Cloud based software for clinic management provides solutions which considerably boom the efficiency of a clinic, permitting doctors to spend less time with paperwork and more time with patients.
Irrespective of the scale of your hospital, clinic or Diagnostics center, cloud based software for clinic management suits best to streamline your health care tasks. It facilitates you manage your clinic's daily task whilst you're busy taking care of the patients and looking after them. Cloud based software for clinic management is a solution you need to automate and manage your clinic, Diagnostic Center or Hospital.
Call us for more Details: +92 300 8567797
or Email : info@evisionsystem.com
( Cloud based software for clinic management )